Given my wife and I spent a solid 15 hours documenting up an itinerary for our vacation to Germany (thank you TripAdvisor!), we wouldn't be doing it justice if we didn't put in the extra effort to memorialize the trip in this blog (now that I have a blog). Here goes…

View Larger Map
(click above to see the drive details if it's not showing here)
(I had considered and even started adding titles and descriptions to each picture – but there are several hundred, and I think the blog writeup does a good enough job explaining stuff.)
Day 1. After flying into Frankfurt, we picked up our Mercedes C-Class at the airport (we were supposed to get a free upgrade with Avis to an Audi A4, but they were out of the model). The Frankfurt airport is huge, clean and efficient. There's a giant shopping mall attached, and we were particularly impressed with how the rental car pickups were organized – it was all very easy.
We left Frankfurt and booked it straight to Würzburg (75 mins away) towards the Residenz parking lot (largest lot of the city). Our introduction to driving in Germany was a bit intimidating given the differences in road signs between Europe and the States. Also, there's no speed limit on the Autobahn, which isn't a specific highway, but the entire system of German highways. Fortunately, we had pre-paid for international data on our iPad, which proved to be incredibly helpful. We ended up using the iPad for GPS, translations, restaurant reviews, and emergency road sign lookups. The car had an English-speaking GPS as well, but that proved a bit problematic for us later in the trip.
The Residenz is a giant palace that was built as a show of power and wealth, and it's an awesome building.
The palace served as the home for Würzburg's prince-bishops during the Enlightenment.
Though it was 90F out, we walked into town and roamed around a bit, meandering our way towards the river and the Altes Mainbruecke (a bridge due West from the Residenz). We ate at a nice restaurant overlooking the water, and had our first taste of German food (sausage) and beer. Big fan of the beer, but never really got used to the sausage, especially without knowing what sort of meat was sausaged up in there.  We were a little intimidated picking out a place to eat.  Though we eventually realized that most everyone in Germany speaks English, interpreting a German menu with Google Translate wasn't quick or easy. We hesitantly walked up and down the bridge a few times until picking a place to eat.
After lunch, we went back to the Residenz and took the English tour there (last one of the day). It's really unfortunate that you can't take pictures inside, because of all the palaces we saw in Germany, this one was by far the most extravagant. Our tour guide was very insisting that we need to come back to Würzburg for the Mozart and wine festivals (runs over the summer).
You need to take the tour to see the Mirror Room, which was almost as cool as the White Room.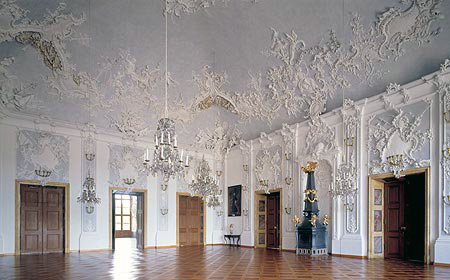 After walking around the gardens, we left Würzburg and drove Southeast towards Nuremberg (75 mins), where we checked into the Hotel NH, and went looking for dinner. We found a really quaint Italian place that had some of the best pizza we'd ever had.
Day 2. Unfortunately, the weather wasn't great on our second day: it was rainy and much colder – it'd dropped 20 degrees overnight. Nevertheless, we were only in Nuremberg for half a day at most, and needed to get up and out early. (One point of confusion we encountered, there are a variety of English spellings for certain German cities. For example, we found that Nuremberg was spelled in some places as Nuernberg, some times there was an umlaut, and sometimes it was Nuremburg.)
Our first stop was towards the Hauptmarkt in the heart of the city. There was supposedly a famous Christmas market here year-round (Chriskindlesmarkt), but perhaps because of the weather, we didn't see much beyond a small farmer's market.
Next up was a tour of the Lochgefängnisse, a medieval dungeon beneath the Altes Rathaus (just North of the Hauptmarkt). For 3 Euros a person, we took a German-speaking tour, though we were given an English translation describing some of the rooms. Starting in the 1300s, these cells were used for holding, torturing, and hanging prisoners. The tour was interesting despite us not understanding the tour guide. Some highlights include: a thumb-screw device, and the prisoner barracks, which also (we believe) served as the prisoner latrine.
We continued roaming the city: over to the Albrecht Dürer monument, and then to the Felsengänge, an underground beer cellar / bomb shelter. We were going to take the tour here, but weren't feeling quite up for another German-speaking only tour. At the North end of the city, we checked out the Kaiserburg – the city's Imperial Castle, "where between 1050 and 1571 all Emperors of the Holy Roman Empire of the German Nation were in residence at least for some time."
Quite coincidentally, one of the guys that worked at the Castle happened to have lived near where we're from in NY, and we spoke to him for a bit. At the Castle, we climbed the tower and saw a demonstration of getting water from the tremendously deep well there (something like 50 meters depth).
After the Castle, we went back to the hotel to checkout. We'd considered driving 10 minutes to Schwurgerichtssaal 600, the courthouse at which the Nuremberg Nazi war crime trials were held. The courthouse is still active, but if there are no cases in session, there is a Memorium Nuremberg Trials exhibit available; however, as we were in a rush to get to our next stop, Regensburg, we skipped the courthouse and went on our way.
Unfortunately, due to weather and timing, we rushed through Regensburg (about an hour away from Nuremberg). We parked and walked along the Danube towards the town center. It was really gloomy out, but nevertheless Regensburg was a really pretty town. We walked into the Dom St. Peter, but otherwise didn't see much else here. It was getting late and we had a very critical stop to make before getting to our hotel in Munich: the oldest monastic brewery in the world, Klosterschenke Weltenburg, operating since 1050.
We got really lost finding the brewery, which sits right on a river at past the border of the Black Forest. Or rather, we found the brewery, but couldn't get to the brewery, as it was on the other side of the river. The Mercedes GPS took us to an apparent no-longer-in-use ferry landing on one side of the river, almost directly opposite the monastery, which we realized shortly before the GPS would have had us drive directly into the river. Literally, the monastery was across the river in sight – so close, yet so far. We had to backtrack 30 minutes (thank you iPad), losing an hour, before finding the lot for the monastery, which was actually a mile walk from the place itself.
The monastery had a beer garden drinking area, but since it was nearly closing time there, it was mostly empty. We sat down and did our best to order beer and food. An interesting point: unlike in the States, at most eating and drinking establishments in Germany, you seat yourself. We didn't realize this, and so before sitting ourselves, tried to communicate with the staff that we wanted to know where to sit. Ultimately, we just picked a table and sat – lesson learned. I know enough German to order a beer, and we picked out a dumpling-like dessert to share. The beer was awesome – very much the best beer I've ever had. Seems that this beer has repeatedly won best beer in the world in its category, and it's well earned. I found that there are two places in NYC that serve this peer, supposedly, and I intend on checking them out at some point simply because.
We left the monastery and made our way down to Munich. It wasn't too bad driving around the city, and we stayed in a perfect location just a 20 minute walk from Marienplatz, the main plaza. One observation on German efficiency: if stuff can be automated, it's automated. Lights automatically turn on when you enter the room, doors are all electronically controlled, the car's engine literally shuts down when stopped for more than a few seconds. You need a special emissions rating to drive in certain areas (such as the Black Forest). There's a huge focus on energy savings and efficiency.
Anyway, fairly exhausted in Munich, we took a brief stroll towards Marienplatz, and then found a place to eat based on the hotel's recommendations: Lowenbrau.
This place was packed, and we felt a bit lost. A waiter helped us grab a table and we got some semi-English menus. We ordered some beers, and picked some food: a plate of sausages and a meatloaf. The beer was great; the food was concerning. First, we got a variety of sausages, and we didn't know what was in each of them. One of the sausages had a really suspicious consistency, but we worked our way through eating them. When in Rome… The meatloaf looked sort of bologna-esque, but one can't be too sure. A bunch of locals sat down at the table with us and they all ordered the same much more appetizing-looking meal. Groups of guys at other tables were chanting drinking songs. Girls were wearing dirndls, the traditional Bavarian dress. It was a cool place. We got some more beers and called it a night. We planned on getting up at the butt-crack of dawn the next day to head down to Hohenschwangau, home of the mad King Ludwig II's castles.
Day 3. The trip to Hohenschwangau from Munich shouldn't take more than 2 hours. The travel guides suggested being there early before the tour buses, so we figured if we got up at 6AM, we'd have our tickets for the castles by 8AM, and be lined up for the first English tour at 9:30AM. Unfortunately for us, the GPS struck again. Somewhere along the way, we turned down a highway which was apparently unfinished. There may have been a sign indicating as such and we'd just not realized it, but we ended up driving to the end of a highway and onto a dirt path, which was definitely not a continuation of the highway. We became very concerned that at any point another car or construction vehicle was going to come speeding from the opposite direction, or that we'd get pulled over. Ironically, there was a car following us as they'd made the same mistake!
Eventually, we backtracked and via iPad found an alternate route to Hohenschwangau. It only took an extra 90 minutes. Luckily, it still wasn't too crowded yet, as we'd gotten up so early.
The drive approaching Hohenschwangau grants visibility to Castle Neuschwanstein, the basis for the Disney castle. Neuschwanstein is seated at the base of the Bavarian Alps. The area is surreal. Hohenschwangau is actually home to two castles, Neuschwanstein Castle and Hohenschwangau Castle – both built by the Mad King Ludwig II.
A few interesting facts:
At the time they were built (19th century), the public was not pleased with funding these extravagant castles, whereas now, Germans are proud of these tourist attractions.
Hohenschwangau was actually built over the remains of fortress Schwanstein, built in the 12th century, and you can still see the old foundation at the base.
While building Neuschwanstein, Ludwig would hang out at Castle Hohenschwangau and use a telescope to keep tabs on the Neuschwanstein construction crew.
Neuschwanstein was never completed, as during its construction, Ludwig was found dead – drowned in shallow water. Also lying dead near Ludwig was his psychiatrist who had recently declared Ludwig as insane. To this day, it's unknown whether Ludwig was murdered or committed suicide.
We bought tickets for both tours (the "King's ticket"). From the ticket office to each castle is a lengthy uphill walk (30-40 minutes). You can take a horse-drawn carriage up for a few Euros, but we wanted to earn the visit by walking. Amusing note: the horse-drawn carriage goes up and down these hills all day long, and horses leave giant poops.  So, the horses poop, then they over time drive over the poop piles, all day long.  This means you really need to be extra vigilant to avoid stepping in shit.
It'd be pretty impossible to describe the castles from the outside, so I'll leave it to the pictures.
After the two tours, we walked a bit further out to a bridge with a full vista of Neuschwanstein. The bridge was minimalistic, very high up, and packed with people, so Laurel was scared. We rushed some pictures while out there and then made our way back to the village. Instead of eating lunch in town, we bought a stale pretzel, and proceeded to drive back to Munich (via the alternate route).
Despite having had such an active morning, we continued as planned with our busy itinerary by next going to the BMW Museum. We found that in Germany, all of the car manufacturers have really futuristic-looking buildings.
For whatever reason, today was 'family day' at the BMW Museum, so we didn't have to pay anything to enter. Unfortunately, we'd just missed the last English-speaking factory tour; but, we still walked around, saw some cars, bought a key-chain, and checked out the Museum. There was a cool exhibit about Hydrogen-fueled engines, and the Museum, in addition to showing a lot of the brand's history, also had a special art exhibit with cars that had been painted by famous artists (the only artist we recognized was Andy Warhol). The Museum also had a tremendous escalator that, when looking up, appeared to descend from a black hole.
Ready for the evening, we then ventured out into Munich, roamed Marienplatz again, and worked our way over to the Hofbräuhaus, the "best and worst beer house in the world." This place was huge, tons of seating all over the place, and packed. We'd read that back in the day, when only men could come here, there were no bathrooms – guys would just urinate into troughs under the tables. After women were permitted, bathrooms were built. The urinals are supposedly very tall due to the frequency of vomiting in them (didn't check to confirm). Also, we read that there's reserved seating for the locals who frequent the place, and they can even keep their own beer steins there.
The beer was large – we shared only one as we were headed to a fancy dinner at Brenner Grill this evening. Dinner itself though was not too impressive, fairly expensive, and confirmed that we should mostly look for local eats for the rest of the trip. Rather than going out after dinner, we went back and crashed. It was a really long day, and tomorrow was to be equally long: our only full day in Munich, and we needed to cram in seeing everything in just a few hours.
Day 4. It would be exhausting to detail everything we did in Munich. We walked the entire core of the town, approximately 8 miles.
We went to a lot of churches, and they were all huge. We saw St. Michael's, St. Peter's, Damenstift Church, Asam Church, Frauen Church, and tried to see St. Lucas, but it was closed. We climbed 303 steps, 13 stories, to the top of St. Peter's to a view of the entire city. Laurel freaked out a bit from the height and narrow walkway at the top. We went to the Viktualienplatz, the "stomach of Munich" – a huge food market – and had a famous goulash for lunch. There were lots of bees here, and the locals swat them like flies. Us, not being locals, ran like hell from them. We went to the Residenz, the Munich palace, and spent 2 hours walking through about 100 rooms there, and saw some pretty crazy "treasures" such as a diamond encrusted crown. We walked up from there through the Hofgarten park to the English garden, a park even bigger than Central Park. We walked from there to the Maximillianeum, the seat of German parliament, and on the way saw surfers surfing on the Isar river! Due to the way water flows down this river, it creates a small area of waves. We saw part of the original city wall of Munich, and saw the glockenspiel play in the main square.
We left Munich late afternoon, and drove West into the Black Forest, a 3 hour drive to Baden-Baden on the Western edge of Germany. The Black Forest is noticeably greener, but no more so than any rural area in NY. Unlike some rural areas in NY, however, regardless of where we drove in Germany, the highway was always clean, visible, and generally speed-limitless. On the way to Baden-Baden, we passed by Augsburg, Germany's third oldest city, founded over 2000 years ago; Ulm, birthplace of Einstein and home to the Münster, the tallest steeple in the world; and Stuttgart, which we'll be heading back towards for their annual wine festival (day 7).
Baden-Baden is described by Lonely Planet as having "chichi boutiques, smart pavement cafes, and manicured gardens…" It's the Greenwich of Germany. We stayed at a really great hotel, the Hotel Aqua Aurelia, that was connected by underground passages to the thermal spas across the street. Our car was low-class in this garage, which played host to Porsches, Bentleys, and Ferraris.
Ready for a change of cuisine (not up for more sausage), we got an Italian recommendation, and despite showing up around 9:30 or so, the place was still packed. After the owner's wife took our order (pizzas and pastas), the Italian owner sat down with us and attempted to communicate. Unfortunately, the owner only spoke Italian and German, so it didn't go very well. A German at the table next to us joined us and translated. Apparently, Baden-Baden was hosting horse races the few days we were there, the owner thought I was the British jockey, and he was looking for tips on whom to bet at the races. I was sorry to disappoint them. Anyway, the food here was really good, and from here on during the trip, we ate pizza fairly regularly, sometimes twice a day.
Walking back to the hotel, the city was very quiet. There weren't too many people out and about, and the few bar-type places seemed to have cleared out. We later learned that the casino (Kurhaus – jacket and tie required to enter, so we didn't go in) was hosting a bunch of events, including free food, drinks and music, which was likely responsible for killing the city's nightlife.
Day 5. Another really busy day, again.
We got up, and drove South an hour to Freiburg, a college town at the border of Germany and Switzerland. It reminded us of Burlington. The only major site here was the church, which though large, wasn't as interesting as some of the other churches we'd seen. We then drove to a hilly area just out of town that supposedly had a tower we could climb to see the city. Unfortunately, there were no obvious signs of where to go (there were some non-obvious signs which were not helpful at all), so we spent an hour going through a lot of trails without finding the tower. Along the way we ran into a whole bunch of other tourists trying to find it also. Just as we were about to give up, we of course found it. The tower was huge, 12 stories or so, and you could feel it swaying from the top. You'd think it'd be impossible not to miss a giant 12-story tower.
From Freiburg, we drove Northeast into the heart of the black forest towards Triburg. On the way, we stopped at the supposed world's biggest cuckoo clock, which was the size of an entire house. We waited the few minutes to here it go cuckoo, and if you had blinked you would have missed it. Very lame, but a necessary stop given we were right there. Luckily, we had inadvertently walked in to see it without paying (apologies if the owners ever happen upon this blog).
From there we drove into town where we walked into some shops with thousands of cuckoo clocks, all handmade and very expensive. In town, we also ate the self-proclaimed world's best black forest cake at Café Schäfer. We weren't big fans – it was soaked in brandy.
From Triburg, we drove back to Baden-Baden, walked around, and ate dinner at another really great Italian place, Osteria Stromboli. The owners came out to talk to us – they had lived in America for 20 years so were able to speak English well. The food was so good we told them we'd come back the next night, which we did.
Total driving time for today was nearly 4 hours.
Day 6. Today, we slept past our alarm by 3 hours. Guess we needed the extra sleep.
Anyway, we drove into Strasbourg, France, about an hour away. It was unexpected that there was no customs or border control – it was an easy drive from one country to the other. The trip to France was also a bit impromptu. We'd discussed going while in the area, but there wasn't enough time. Since we'd crammed so much in over the week, though, we'd freed up half a day to head over the border.
Strasbourg's labeled as the "ultimate European city," as it has flavors of both France and Germany, and looks like out of a fairy tale book. Once you cross the Rhine into France, however, it's immediately more dirty and less organized. The roads and signs were worse, and there were beggars on the streets.  The old city of Strasbourg, however, was very pretty. As the place is right on the water, it's a little like Venice. We had crepes for breakfast and then went into the church, Notre Dame (not the actual one, just named the same).
This church was very commercialized where you had to pay to see each of the altars. We climbed the tower here for 5 Euros each, and the climb took us up 100 meters (I think).
We had Alsatian pizza for lunch – it's a very thin crust with an onion based sauce (I prefer tomato-based). In German-speak, the pizza's called Flammkuchen. Otherwise, we walked a bunch around town.
The drive back to Baden-Baden sucked, as we hit a ton of traffic. The traffic was so bad, as if in a cartoon, we saw someone had fallen asleep in one lane blocking all movement, some people got out and were playing a pick-up soccer game, a little boy had to run out of his car to pee on the bushes off the highway, and then randomly, there was a guy riding a bike with no pants on. When we finally did get back, we went to the spa, Caracalla - our first relaxing moment of the trip. (The other spa in town was nude-only, and we weren't quite down for that.) This spa was basically 12 different pools of assorted temperatures – very unlike "spas" as we know them in the States (as far as I'm aware, at least). The water comes from deep springs and is said to be rejuvenating. It was definitely nice taking a break from moving around.
Before dinner, we checked out town a bit and stopped by the casino. The place was very crowded, there were tents and stalls set up for food and drinks, and there was a band playing. Everyone was fairly well dressed, so we were fairly well out of place. We went back to the second of the Italian restaurants and had another great meal. The owner came out and spoke to us for nearly an hour about all sorts of stuff, including religion and politics and they comp'd us an awesome dessert.
Day 7. Today was a day of drinking. We got up early, and backtracked our way to Stuttgart, straight to the Mercedes Museum, which like the BMW Museum, was also a futuristic looking building. The Mercedes Museum, however, did a much better job of conveying the company's history, especially placing their successes and failures in a broader historical context – such as how WW2 impacted production output. There's also a lot more history to Mercedes – the founders include Benz, Daimler and Maybach (Mercedes was the name of the daughter of the lead engineer) – and the company pioneered a lot of innovation in the industry (including airbags and ABS).
After the Museum, we went to the Marktplatz, the suppposed site of the city's annual wine festival, Viertelesschlotzer. The outskirts of Stuttgart seemed much more industrialized than some of the other cities we'd seen, but the town proper was still very open and quaint. We got there, though, and saw no wine festival. And then we walked around a lot, got some crepes (again, a lot of bees here), but still found no wine festival. We saw a tremendous farmer's market with fruits, but no wine festival. Finally, when we were about to give up, we turned to an unexplored street, and right there was a massive series of tents and mini-beer gardens with thousands of people. No idea how we could have missed something so massive, but there it was.
We managed to find some English-speaking bartenders, and tried a few wines. There was a bit of confusion over payment – it seemed like we had to pay extra, but in turn got to keep the glass. We were given a token indicating we'd paid, but then when we were leaving, we handed the token back, and got what must have been a glass deposit surcharge back. Slightly confusing. Anyway, by the time we found this place (1-2 hours later than planned), we really needed to get back on the road.
From Stuttgart, we drove north along the Rhine towards Heidelberg, and on the way we stopped at three (almost four) wineries off highway B3. At the first winery, the hostess spoke great English, and helped us pick out a few bottles; at the second winery, the hostess spoke no English, and I was just barely able to ask about the wine-tasting (Weinprobe) – the wine here wasn't as good, and we didn't stay nearly as long; we hit the jackpot at the third winery, however. The third winery was coupled with a B&B, and the hostess (a very old woman) again spoke no English. I conveyed in German our desire to try some wines, and she took us to a cellar with casks, open bottles of wine, gave us two glasses and pointed at the light switch. She then left us to do as we pleased! We tried all the wines, some twice. It was pretty crazy to let us have our way in the cellar. We ended up buying 12 or so bottles here (not quite thinking about how difficult it'd be to get them home). I don't recall which wineries in particular we stopped at, but I believe I grabbed them from this list.
After drinking a fair amount (me more than Laurel given she was driving), we finished the drive to Heidelberg. We stayed at a Marriott a decent walk out of town, but right on the river (I believe this is a tributary that feeds into the Rhine). As it was getting late, we made the walk to the old town, and ate at an Italian place by the church that had been recommended by the concierge. The restaurant was fair, but the service was horrible – definitely the most disappointing meal of the entire trip. We waited forever for the check, and when it was given, the waiter took extra care to remind us the tip was not included. Well, no tip was left at all. After dinner, we roamed a bit and went back to the hotel as it was getting dark out. Oddly, the trek from the old city to the hotel did not feel as safe at night as other cities had felt at night, Munich included.
Day 8. There are two recommended walks in Heidelberg, the Philosophenweg and through Schloss Heidelberg, the castle-like fort on the hill above town.
We went first to the Philosophenweg, which required driving across the river and parking near the entrance of the path. From the parking lot, it was basically straight uphill the entire way. The Philosopher's Way path runs parallel to the river, through gardens and past a university; supposedly this path played host to many-a midnight rendezvous. There were lots of bees, though, and despite the great view of the city and Schloss, we moved rather quickly across the path, and then down to the Old Bridge (Alte Brücke) towards town.
Across the Old Bridge are two famous statues, a monkey holding a mirror, and some mice. Holding the mirror is supposed to bring you success, and rubbing the mice is supposed to bring you many children.
We went back to the giant church, Heiliggeistkirche, where we had eaten dinner and checked the place out.
We then continued Southeast towards a cobbled road, Burgweg, which we followed up (10mins) to Schloss Heidelberg (there's also a funicular railway that costs 5 Euros per person roundtrip). The Schloss was less interesting inside than out, which seems to be a common theme with these old castles. There was a couple taking wedding photos, and we walked through an interesting though seemingly unrelated historical apothecary exhibit. The real main attraction at the Castle was the world's largest beer keg, made from 120 oak trees. This sucker was huge enough to walk on. The barrel's never been completely filled, something which Mark Twain once said was a shame (sorry, no reference there).
On the way out of town, we stopped at a chocolate shop and purchased some Studentenkuss, a confection made from nougat, wafers and chocolate. Over the course of the trip, we bought a ton of chocolate. The chocolate is simply better in Europe. We may have brought back 10+ pounds of candy with us.
From Heidelberg, we made the drive North up to Cologne, our last destination in Germany. Cologne seemed to be the most trendy of cities yet, with a really young crowd, hipster-ish even, a cool party scene down by the river, and a ton of shopping. In the middle of the trendy area of town is the Dom, Germany's largest cathedral, which holds a number of highly revered relics, such as the supposed remains of the kings who followed the star to Bethlehem where Jesus was born (the Shrine of the Three Kings). The Dom is massive, and is completely lit up at night.
We walked around a bunch and looked for a place to eat, eventually settling at a beer garden near the river. We wanted to give one last shot at traditional German food before heading to Holland. What's really interesting about Germany is how drastically different the beer is from one region to the next. In Bavaria, for example, beer was wheat-based or a heavier lager; in Cologne, it was a much lighter beer, and served in much tinier glasses (which you make up for in quantity). So, we sat down, got some beer, and were quickly joined by some locals. The locals bought us a round to welcome us to the city, and then suggested some food for us: the famous appetizer of bread, cheese and mustard; and haxe, which seemed to be fried cow hoof. Quite surprisingly, both the bread-cheese-mustard sandwich, and the haxe, which was like dark-meat chicken, were really good. We ordered some more food, got some more drinks, and had a great last meal in Germany. We hung out in the city by the river until it got dark, and then called it a night.
Day 9. Today, we again (surprise) got up early, and went straight to the Dom for our morning exercise: climbing the 509-step tower for a full view of the city. By this point of our trip, my legs were destroyed. We'd been doing so much walking non-stop, and now climbing what's probably 30+ stories up and down was pretty brutal.
After the climb, we toured the cathedral. There was an English tour mid-morning, and we thought it'd be worth sticking around for, and it definitely was. As part of the tour, we received special access to the Shrine of the Three Kings.
And we learned some interesting stuff about the history of the cathedral. For most of the famous places we'd visited, there was also a preface to the story about how some part did or didn't survive 'the war' which of course referred to the Allied bombings of Germany – the Dom was no exception. As such a huge cathedral, it served as the primary target of the Allied bombings of Cologne. Something else that was sort of interesting was a note about a checkered stained glass pattern – there were concerns that this relatively new panel was too modern for the church.
The tour took an hour or so, and then we left Germany for Amsterdam. Similar to crossing into France, the cross into Holland was painless and the drive was easy (not to mention I wasn't driving). We had considered taking the train in, but figured it'd be too much of a hassle with our luggage (remember: 12 bottles of wine). So, we extended our car rental. In our effort to be prepared for the next step in the vacation, I tried to figure out where to park in town, only to learn that it would be 80 Euros to park a car in the City Center! That would completely destroy any financial savings from keeping the car versus taking the train. The hotel recommended that we use the Park & Ride, a set of lots just outside of town, where parking was encouraged by being only 5 Euros, which included two free train tickets into town and back. We did this.
Getting off the train in Amsterdam reminded me of getting off the train in Venice. Open, lots of people, canals. Except, in Venice, the air was not permanently tinged with the smell of marijuana. It took us awhile to stop asking each other, "did you smell that!?" Amsterdam is like a clash of young people and old history. It's like a romanticized version of a grimy medieval city fast-forwarded into modern times. That doesn't really make sense – I guess, the city just seemed interesting and very diverse. Maybe that's what tourists feel like when they get to New York City.
Our hotel was right in the City Center – couldn't have picked a better location – and we immediately took a tram from there to the Museum District to check out the Rijkmuseum, the premier museum in Amsterdam, host of a number of famous paintings, including a number of Rembrandts. I thought the museum was not open on Sundays, but I think that was wrong. On the tram over, we got a bit confused with how payment worked since we didn't have tickets. Laurel freaked out a bit about this, but it was easy enough.
I'm afraid we're not really art museum people. Probably a lot of the greatness and history at the Rijkmuseum was lost on us. We like art, but it's hard to spend hours staring at it. We saw the famous Night Watch, among others, and probably did spend maybe 2 hours or so over there. Then, rather than squeezing in a trip at the Heineken Experience, we walked back to the hotel (30 minutes!) just to check out the city. Basically, this meant that during our one full day in Amsterdam, we would need to cram in nearly every single attraction and thing to see. On the way back to the hotel, we picked up some Dutch cheese, which went well with a pre-dinner bottle of wine in our room.
For dinner, we wanted a really nice meal. We didn't want to save this for our last night as we figured we'd be packing and dealing with 12 (now 11, actually) bottles of wine. TripAdvisor pointed us to Greetja, somewhere on the East Canal. We got incredibly lost finding the place. Though Amsterdam is laid out in concentric circles following the canals, with sections along each circle being divided into districts – there are so many small roads, that it's impossible not to lose your sense of direction. Eventually, we got there, though quite late. We ended up at a table outside, and ordered a huge amount of food, some local specialties, include something with herring, a liver dish, and for my entree, I had veal cheek. At least, that's what I think it was. Regardless, everything was awesome – highly recommend this restaurant.
Though full and tired, it was Friday night in Amsterdam, and we needed to check out the Red Light District. There are really no words to describe the Red Light District. It's part Montreal, part New Orleans, part cartoon. Throngs of dudes hanging outside windows where young, established women display themselves. One guy walks out to cheers from his buddies, high-fiving them. The ladies-in-the-window are texting, as if bored. I guess, just like if you get bored at work you might start texting or emailing friends, the prostitutes do the same on their jobs. The girls in the crowd (not soliciting attention), are wearing Uggs, though it's the middle of summer. We weren't sure if it was a trend thing, or if it was because the bars and streets got so dirty you had to wear water-protective shoes. (Our Greetje waiter said it was the trend.) Everyone is smoking up, or drunk, or drinking. It's like a frat-house's dream, and just a crazy, crazy scene.
We finished the day with a trip to the Erotic Museum.
Day 10. Like our one full day in Munich, today we spent our time traversing the entire city of Amsterdam – approximately 6 km by my count. We zigzagged through the City Center, Red Light District, Jewish Quarter and East of the Amstel districts, and saw a ton – some highlights…
We started in the Museum District with a tour of the Van Gogh Museum, where we saw such works as Starry Night. We got there as it opened, but it was packed with Japanese tour groups already.
We then went to the West Canal Ring, where we spent a good deal of time at the Anne Frankhaus, where Anne hid out from the Nazis. We learned that she died in Auschwitz, and it was her father who'd survived the concentration camps, who came back, found her diary, and got it published.
Just North of the Anne Frankhaus, we had lunch at The Pancake Bakery. We had the most awesome food here: pannekoeken – thin pancakes, sort of akin to open-faced crepes. These may have been the most awesome find of the entire trip.
In the Jordaan, we took a quick look at the Brouversgracht, named the most beautiful street in the city.
In the Old City Center, we walked through the Damrak and saw the old stock exchange, the Royal Palace, the National Monument, and the New Church. The Royal Palace has been called the eighth wonder of the world, and we toured it (less interesting than other palaces).
In the Jewish Quarter, we saw the Rembrandt House Museum, and the (outside of the) Portuguese Synagogue (Laurel wasn't pleased that it was closed given how far away we walked to get there).
We tried to see Jacob Hooy & Co., a famous candy shop, the oldest in Amsterdam (since 1743), but it was closed when we got there.
We traversed the Red Light District and saw Warmoesstraat, a touristy strip (but we're tourists).
We had a beer at the end of the day at De Brakke Grond, a famous beer place (specializes in Belgian beer), and then went back to the hotel to pack up. We had dinner at a nearby Italian place, which wasn't too bad, but not the best (Baden-Baden owned the Italian cuisine this trip).
Day 11. It was easy enough to get back to our car at the Park & Ride, though we had a little scare due to a mix-up with the parking tickets. The Amsterdam airport was pretty sweet. There was a big shopping mall with some nice concession stands (I got fries), and we considered buying even more (duty-free) chocolate and booze. Interestingly, the security scan here was done, more or less, right before boarding the plane in that waiting area rather than in a centralized section of the airport. The operation was very efficient, and between Frankfurt and Amsterdam, European air travel puts the US airport (TSA) system to shame. Actually, there's a lot of stuff we found that the US can learn from Europe on with regards to operational and energy efficiencies (some of which was noted in this really long document).
So, nearly 2200 kilometers and 7000 words later, there you have it. We packed a lot in, had a blast, and hope to go back again in our lives. Auf Wiedersehen!